Sisal and Sisal + Cotton Buffs/ VENTILATED BUFFS
The ventilated buffs are made up of natural and treated cotton cloth, woollen cloth, Rodiflex, sisal+cotton and sisal cloth, with or without impregnations. They are suitable for all polishing, bright/mirror finishing and satin finishing of flat and shaped pieces on manual and automatic machines.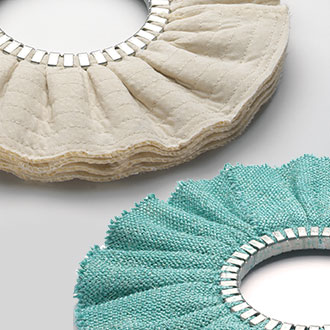 Ventilated Buffs
Data sheet »
APPLICATIONS
Ventilated buffs
Applications: for polishing operations on aluminium profiles, aluminium and stainless steel sheets, pipes and tubes, shaped pieces, etc.
Buffs for cutlery
Applications: or polishing and bright finishing cutlery (spoons, forks, knives, etc.)